Introduction
---
Our company has established long-term co-operation with many famous domestic and foreign academic institutions, including Tsinghua University, Sichuan University, Jiangnan University, China Pharmaceutical University, etc., which have steadily delivered a large number of high-quality R&D talents to the company.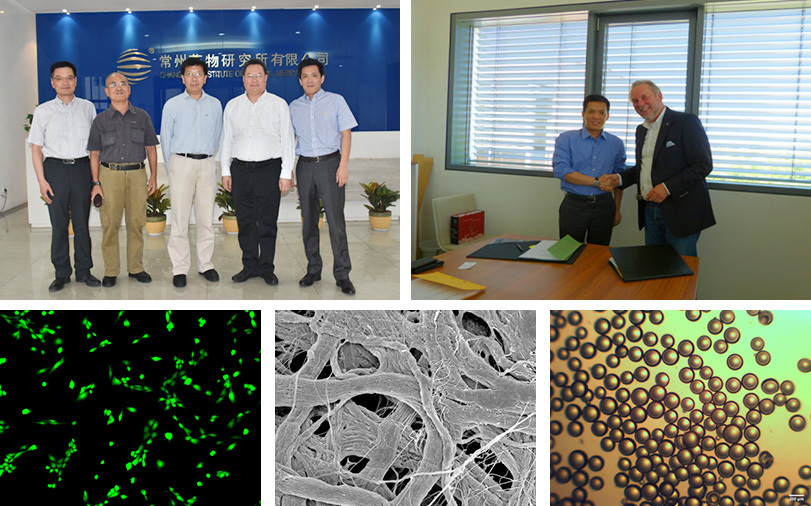 Under the guidance of Mr Qian Xuhong, an academician of the Chinese Academy of Engineering, the Changzhou Susanna Jade Biomaterials Research Institute was established, with Mr Li Liwen, a professor and doctoral supervisor of Northwestern University, as the director.
Introduced by the Provincial Science and Technology Department, Changzhou Institute of Pharmaceutical Sciences and NMI, the German Institute for Nature and Medicine, gained mutual trust and signed a cooperation project. Based on the Chinese sodium hyaluronate modification technology, through international co-operation, transferring and absorbing the German biofunctional material preparation process, combining the German nano-coating
technology, and draw on European standards and quality system to realise the industrialisation of high-quality and highly bioactive biomedical products.
Jointly developed oral implant double-layer biofilm with the Fourth Military Medical University of Xi'an, which promotes guided bone regeneration and soft tissue regeneration at the same time, with good physical barrier effect and space framework structure, and without cross-linking treatment, safe and reliable.
Co-developed with China Pharmaceutical University the slow-release carrier of drugs, which has remarkable efficacy and long-lasting effect in the therapeutic application of urinary incontinence.
Contact Information
---
Address
---
1025 Liaohe Road, Changzhou City, Jiangsu Province

Focus on us
Focus on us

Focus on us
---
Copyright©2023 All Rights Reserved of Changzhou Pharmaceutical Research Institute Co., Ltd.